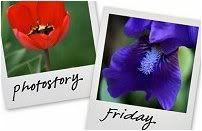 Hosted by Cecily and MamaGeek
This PSF is more about the story than the photo.
Not an overly striking photo, is it?
The Hubby and I were in London, on a very limited time schedule
(5 kids, imagine that).
We were tube hopping to all the places he missed on the last limited time trip into the city.
At the Tower of London exit, we ran out of the tube station, up the stairway and he spots something I've passed several times but never noticed. A sundial.
"Wow, how cool, a sundial!"
he exclaims. He was right, what a great photo op.
There was a guy posing by it
(the nerve of some people, shouldn't everyone step aside when my camera comes into the area?)
. Since I didn't really want the guy in my photo, I waited.
and waited.
and waited.
The guy was striking every pose imaginable. It was like America's Next Top Model was being shot in this very location, only the photographer and the model look like very average tourists.
As Joe Average started walking away from the sundial, I moved up to get a good angle, only he wasn't leaving--he moved to another side and they begin another modeling moment.
Considering the time, I knew I was running out of opportunities to take a shot.
Narcissus kept on posing.
Finally, I decided that any picture I got of this thing would only remind me of the aggravating moment at hand. I realized that now I had to get a shot
WITH
them in it. Right as I lifted my camera and began framing the shot...
yes, you guessed it,
they finished up.
They basically flushed TWO Kodak moments for me in one go.
The nerve of some people.
I wonder how many tourists have pictures of my backside while I photographed this?