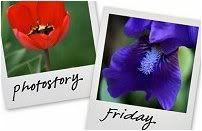 Hosted by Cecily and MamaGeek
We get freezing fog here in England
.
Although it's a mess for people who still have to go to work, it's beautiful for those of us wielding cameras.
Still in the process of moving, I had to go to the old house to let some prospective renters in to view it. As I was driving there, I was kicking myself (hard to do when you're driving) for not having my camera because the scenery was stunning. I chided myself that I wouldn't have time to stop to shoot pictures anyway since the appointment was only a few minutes away.
Those people were late.
A
lot
late
and the whole time I waited I was thinking about the sun beginning to peek through the fog and how I was missing some great pictures.
Fortunately, my drive back was just as beautiful
.
I pulled into the drive, ran into the house to grab the camera and shot back out past my bewildered family...
but didn't get the shots I imagined. No matter what setting I used I couldn't capture the sparkle or the trees lining the roads looking like Ansel Adams
(renowned for his black and white infrared photography of landscapes--white trees)
had placed them there.
Gorgeous.
As I stood there trying to forever capture the scene into my memory,
I looked to my left and saw these:
It's planting time again and the farmers get creative with their scarecrows.
These bird frighteners are out, standing in the fields.