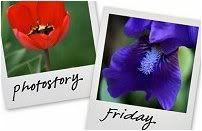 Hosted by Cecily and MamaGeek





There's something great about living in a house full of testosterone.

Truly, there is and when I discover what it is I'll let you know.

Since we've been holding our barf-a-thon

(clear today, thank you very much)

, I haven't been out taking a lot of photos.

So for your viewing pleasure

, I've reached into my folders for something of importance.

I remember this day.

I remember having a lie in.

Gosh, it must've been 8 o'clock or so when my family thought I should not miss the great event happening in our garden.

A Goshawk took down a bird and was ripping it to shreds right on our front lawn.

Cooool.
What can I say, a photo op is a photo op, no matter how disgusting.